There's nothing I love more than the opportunity to explore a new landscape. And if that landscape also happens to contain a couple of artworks, so much the better.
So it was with edge-of-the-seat anticipation that I joined 39 other curious people recently, on a bus headed to Gibbs Farm, about an hour north of Auckland. The site visit was one of several on offer at the International Federation of Landscape Architects annual conference.
Although I was naturally fascinated to see the rural landscapes north of the city, (many with rich, diverse histories, and others under threat of encroachment by the growing city) it was the art that was calling my name.
But first some background.
Gibbs Farm is owned by Alan Gibbs, a well-known and uber-successful New Zealand businessman. He bought the original property over 20 years ago, and has added incrementally to his holdings. The farm lolls its way over rolling ridges, gullies and flats, in an ancient landscape surrounded by the stupendously spectacular Kaipara Harbour, the largest in the Southern hemisphere.
The scale of the landscape has, unintentionally, driven the art agenda: most of the works are the largest the artists have ever produced. From afar they look tiny, even insignificant. It's not till you're standing face-to-face with a 6 metre high rusted steel wall that the true scale actually registers.
So who are the artists who have created these vast wonderments?
Let's start with that 6 metre high wall.
That would be Richard Serra's Te Tuhirangi Contour (1999/2001).
It's made of 56 Corten steel plates, each 50mm thick and 6 metres high, and it runs for 252 metres. That's almost the length of 1-and-a-half jumbo jets.
According to the visitor guide the "…steel plates lean out 11 degrees from the vertical and trace a single contour line across the land in a way that, in the artist's words, "collects the volume of the land.""
This wall draws you in. The forty of us from the bus set off cross-country with hive mind determination. Like lemmings to the cliff we made for that wall.
Once there, each panel continued to mesmerise, with miniature rusty landscapes of colour and pattern and texture extending out along the surface.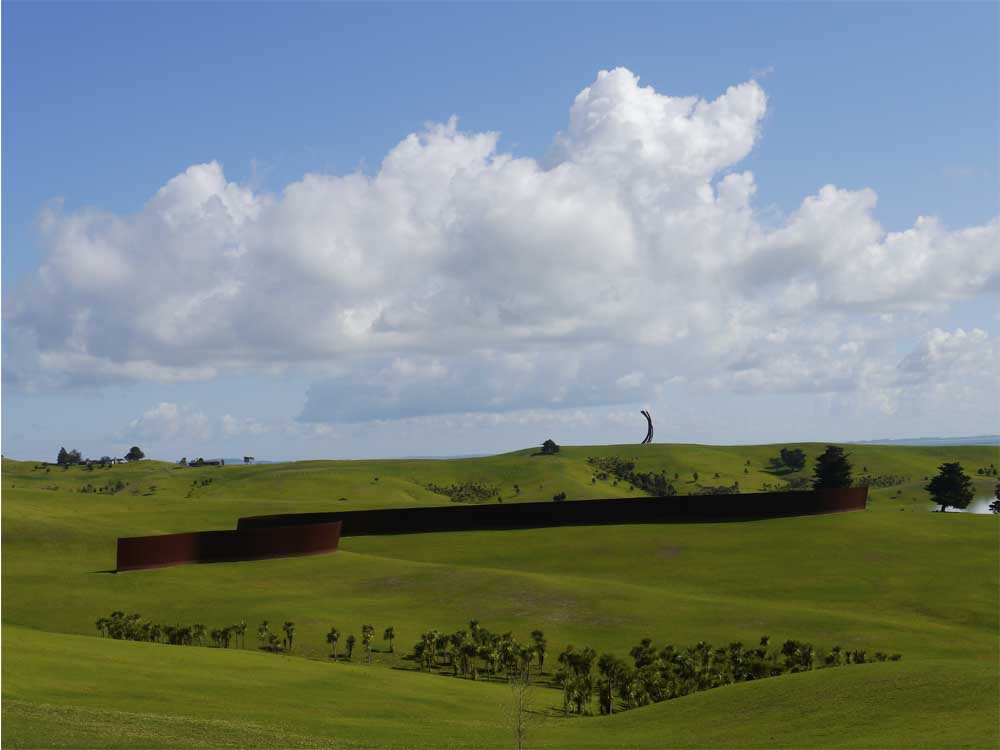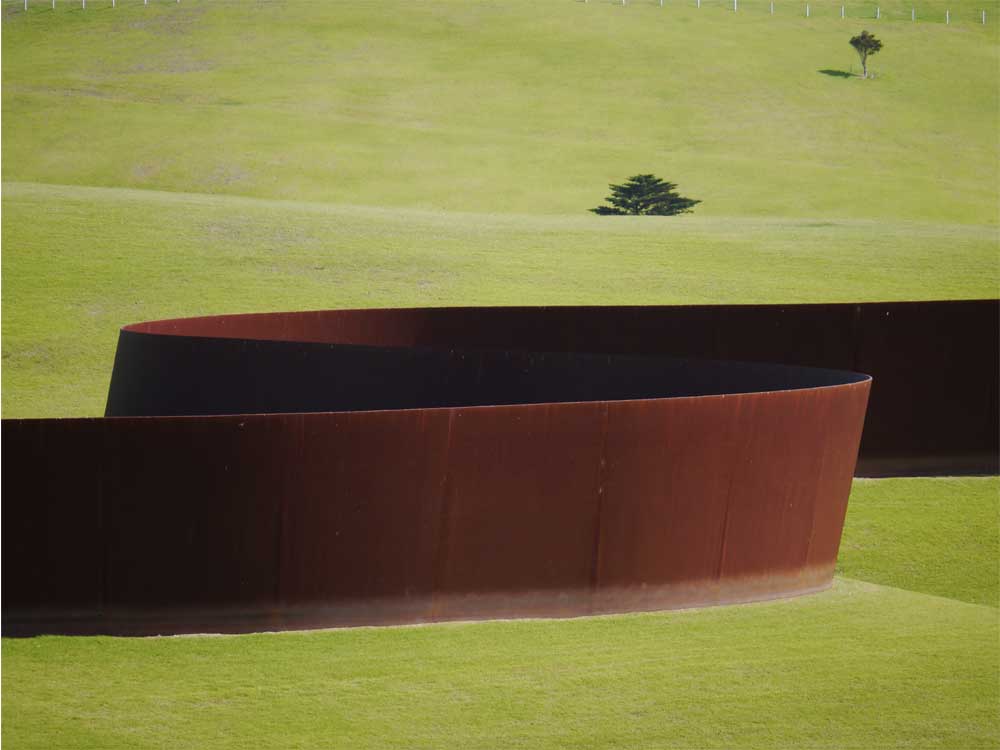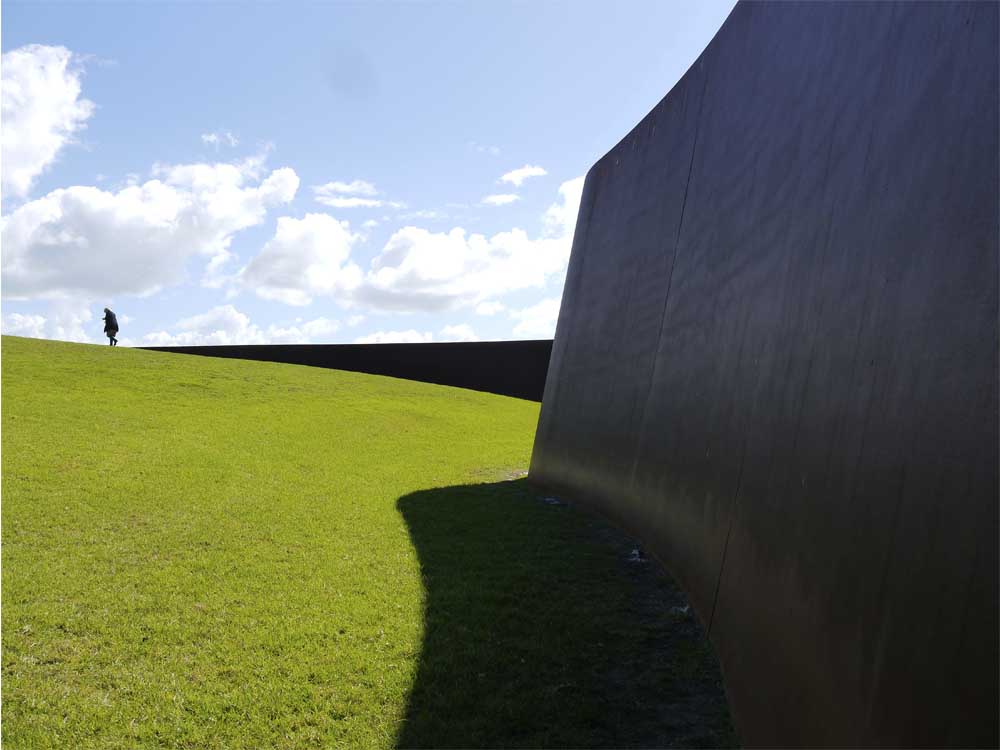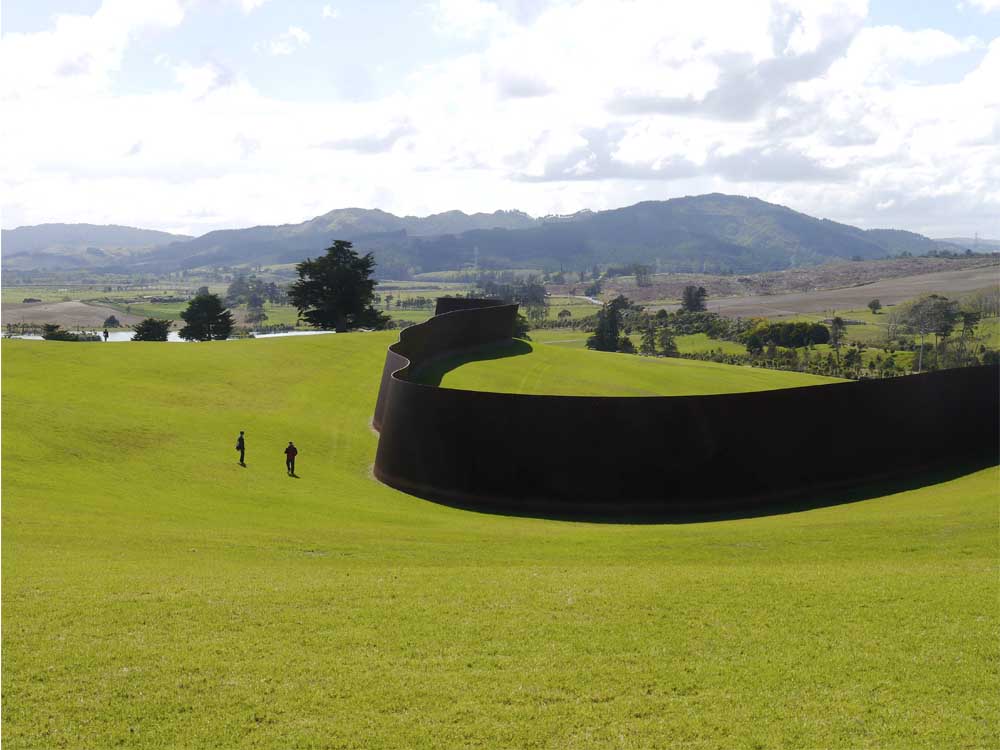 Looking up for a moment, it was possible to see something on the distant horizon: a few bent paper clips perhaps?
A reasonable hike instead revealed it to be Horizons, by Neil Dawson (1994). Without something to give it scale, it looks like a wonderfully light calligraphic drawing, or maybe a piece of paper caught just at a moment of billowing in the breeze.
Instead it's a brilliant trompe l'oeil, etched in steel some 15 x 10 x 36 metres, and suggesting "…a giant piece of corrugated iron blown in from a collapsed water tank on some distant farm."
If Serra's work collects the land, Dawson's collects the sky.
Over the course of the day clear blue skies, white clouds, and finally lowering greyness all settled in behind, colouring in the finely drawn linework of Horizons.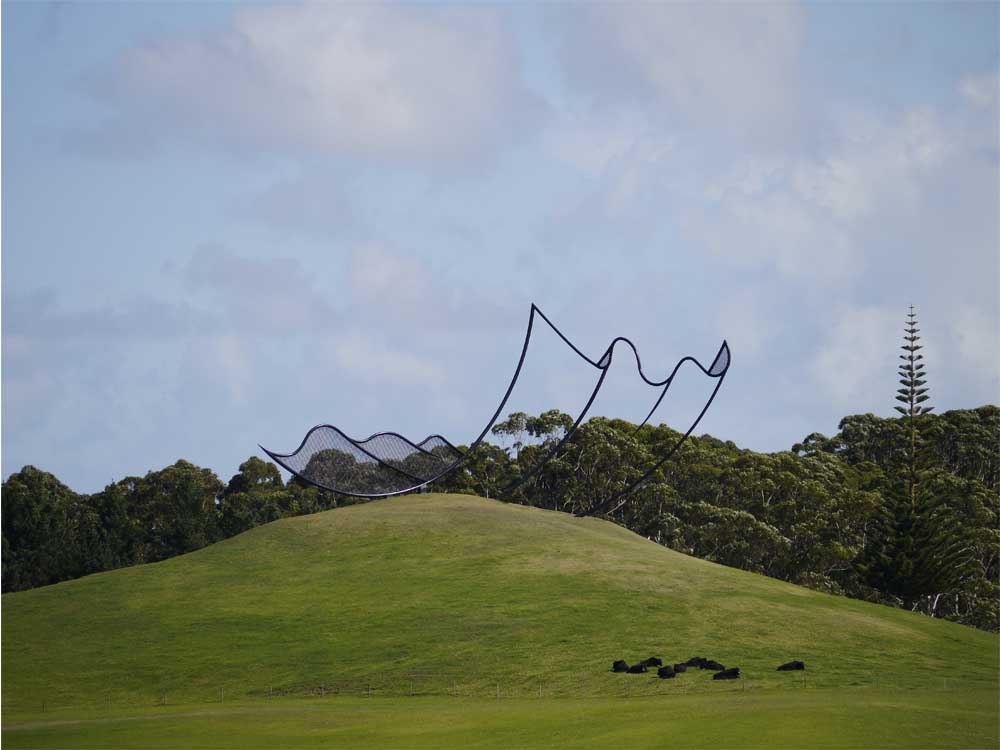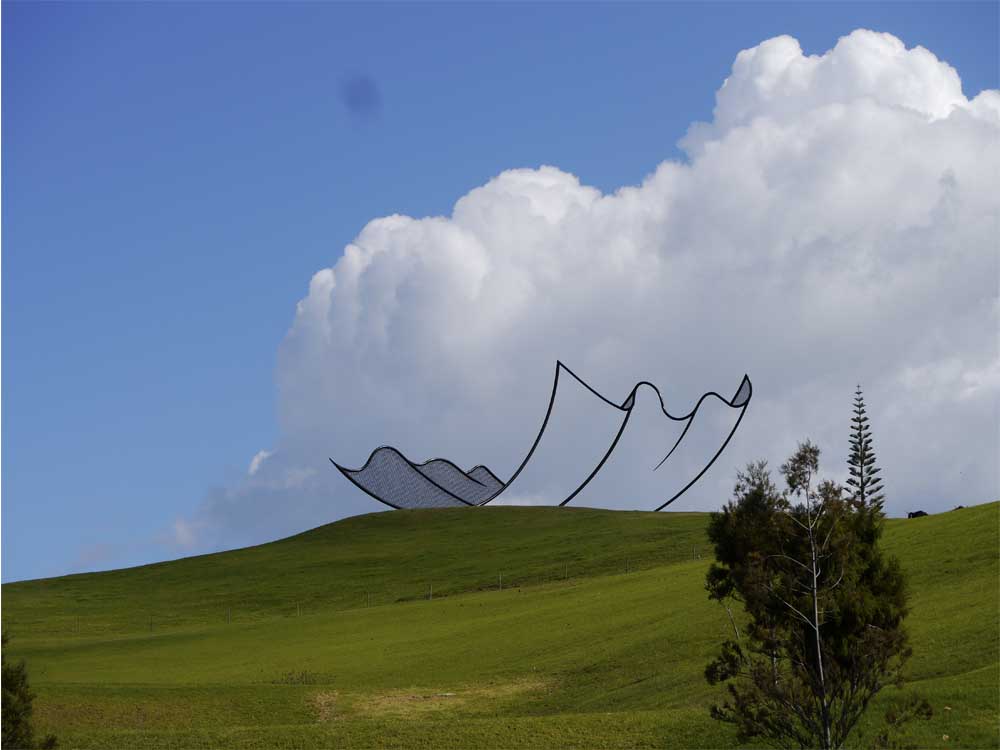 We're on a ridgeline now, and only the briefest of trudges brings us face-to-face with another gobsmacking sculpture.
This one has "a fleshy quality which the artist describes as being "rather like a flayed skin"." Ummm...choice, bro.
Engagingly titled Dismemberment, Site 1 (2009), this work, by the fabulous Anish Kapoor, is compelling.
Two vast elliptical steel rings are placed 85 metres apart, and a taut reddy-pinky membrane fabric stretches anatomically between.
In the presence of such a strange and disquieting object it only seemed fitting that a lone, and apparently quite friendly emu came up to join us as we sat down to lunch.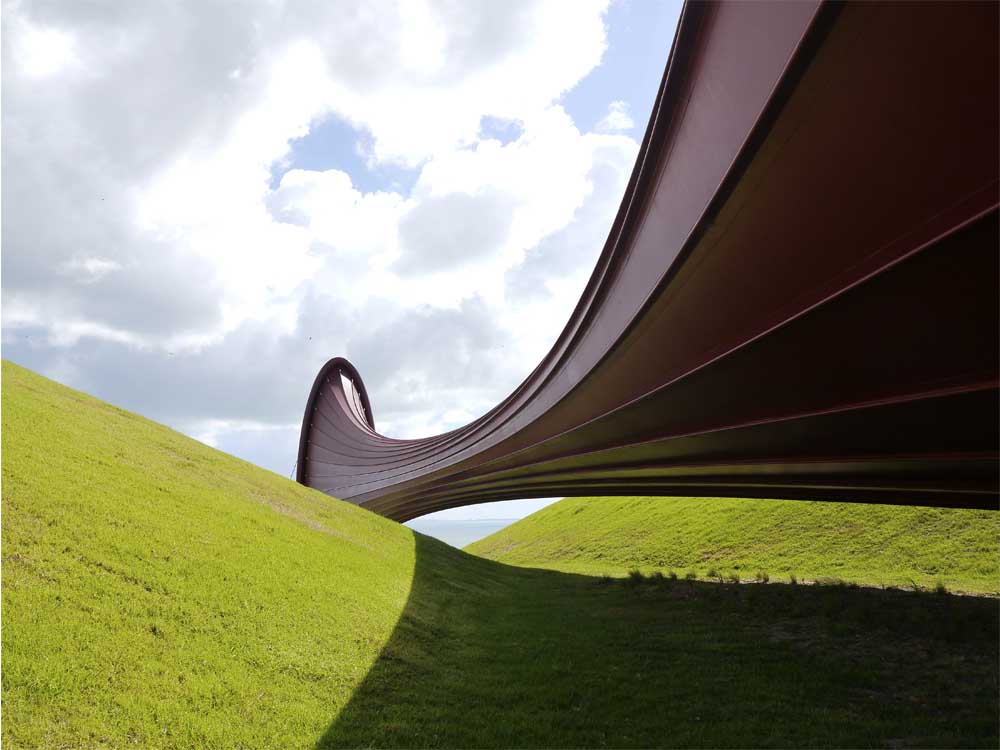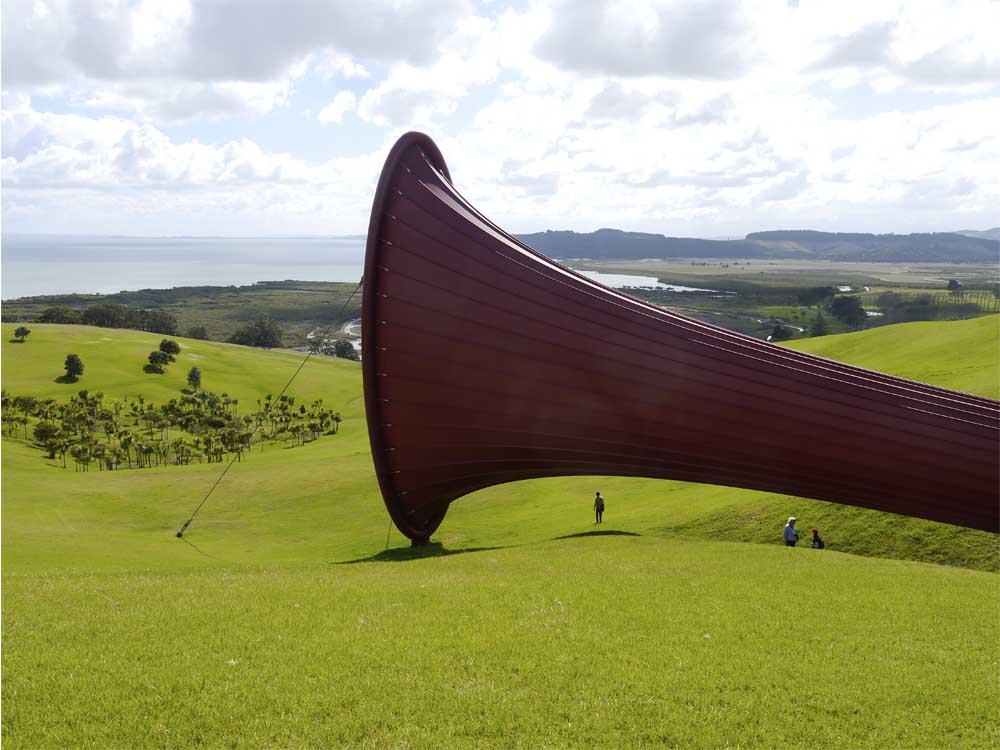 From this part of Gibbs Farm the Kaipara is close. The landscape plunges down to the beach, and the huge receding tides. We follow, until the Loch Ness monster stops us in our tracks.
Looking closer, its arching loops are of no marine origin. Instead they are made of Scottish sandstone, each block 1.4m2.
Together these 11 structures make up Arches (2005) by Andy Goldsworthy.
I imagine they look utterly gorgeous in the sun, but in the late afternoon gloom they took on a mysterious quality which was only enhanced by the flock of sheep which suddenly ran along the foreshore to visit their local merino henge.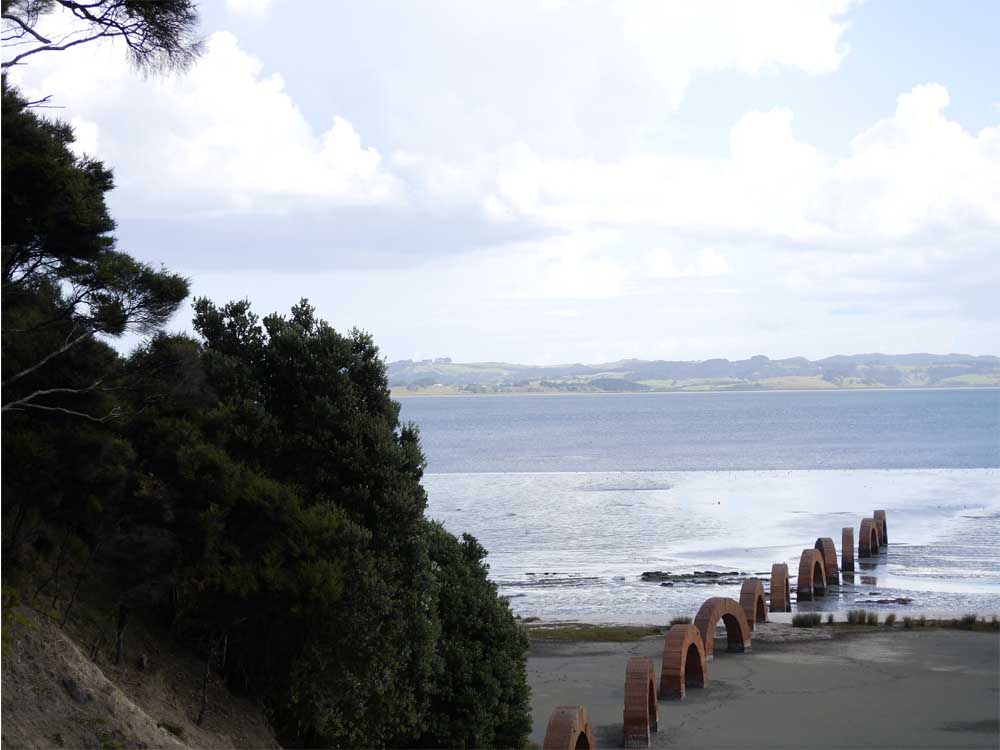 Were these four works all that was on offer, one could go away a happy person. Amazingly though, the hit parade continues, with gigantor works by Richard Thompson, Sol LeWitt, Daniel Buren, Maya Lin, Bernar Venet and more. It will be interesting to see how many more great works the site can support: given their vast scale they really do need breathing space around.
We were fortunate to be led on our tour by well-known New Zealand landscape architect Garth Falconer. He has been discussing, designing and debating the Gibbs Farm landscape for nearly as long as it's been operating, and his generous, thoughtful and knowledgeable presence brought many insights to our day.
For those who are Garth-less, don't despair. Gibbs Farm is open monthly by appointment. Find out more at their website. Take your walking shoes, get off the roads and paths, and enjoy a wonderfully stimulating day engaging with eye-popping artworks in an amazing setting.
Now it's your turn. If you were Alan, who would you invite to create the next uber-artwork for Gibbs Farm? Let me know who and why. And if you enjoyed this article, be sure and share it with your friends so they can have a say too!